About the Watan Group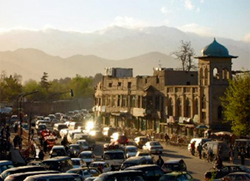 The Watan Group is a wholly Afghan owned company providing services in security, logistics, construction, communications (mobile, satellite and static), oil and gas, steel and mining. Since its inception in 2002, the group has grown exponentially and is now able to offer fully integrated services enabling clients to fulfil all their needs in country. This allows for significant reduction in costs whilst maintaining quality to international standards. The Watan Group maximises the economic and political impact of its contracts by ensuring overheads remain in Afghanistan, and that a significant portion of profit is re-invested in the region.

Our executive leadership draws on more than 30 years of experience working with international government organizations, Afghan government, Fortune 500 companies, NGOs, and multinational private sector clients.

Watan Group ensures clients benefit from a strong combination of international management together with in-depth local knowledge. Watan has operated in every province in Afghanistan and maintains strong political and tribal connections throughout the country, minimizing frictions that can often delay or increase the costs of projects.